oribokit
oribokit
| | |
| --- | --- |
| Brand: | Oribokit |
| Product Code: | oribokit v1.5 |
| Availability: | In Stock |
CONTROLLER BOARD FEATURES
ATMEGA32U4 "Arduino compatible" microcontroller
3 x micro servo mount points
3 x micro servo drivers
3 x RGB LED ports
GPIO Expansion Pins
On-board Light Dependant Resistor
RESET, HI AND LOW buttons
expansion pins for additional sensors
Compatible with Arduino IDE allows you to easily update and extend your own code
Open Source ORIBOKIT™ firmware
Super glue for assembly
BLOSSOM KITS INCLUDE:
Laser-cut Japanese Washi paper blossom
Laser-cut Kraft paper mechanism
Printed Circuit Board printed parts
45cm nylon flexible stem
Stainless steel actuator wire
9G micro servo (SG90) and mounting screws
ORIBOKIT® connectors
zip ties
Not included:
USB C cable
USB 5V power supply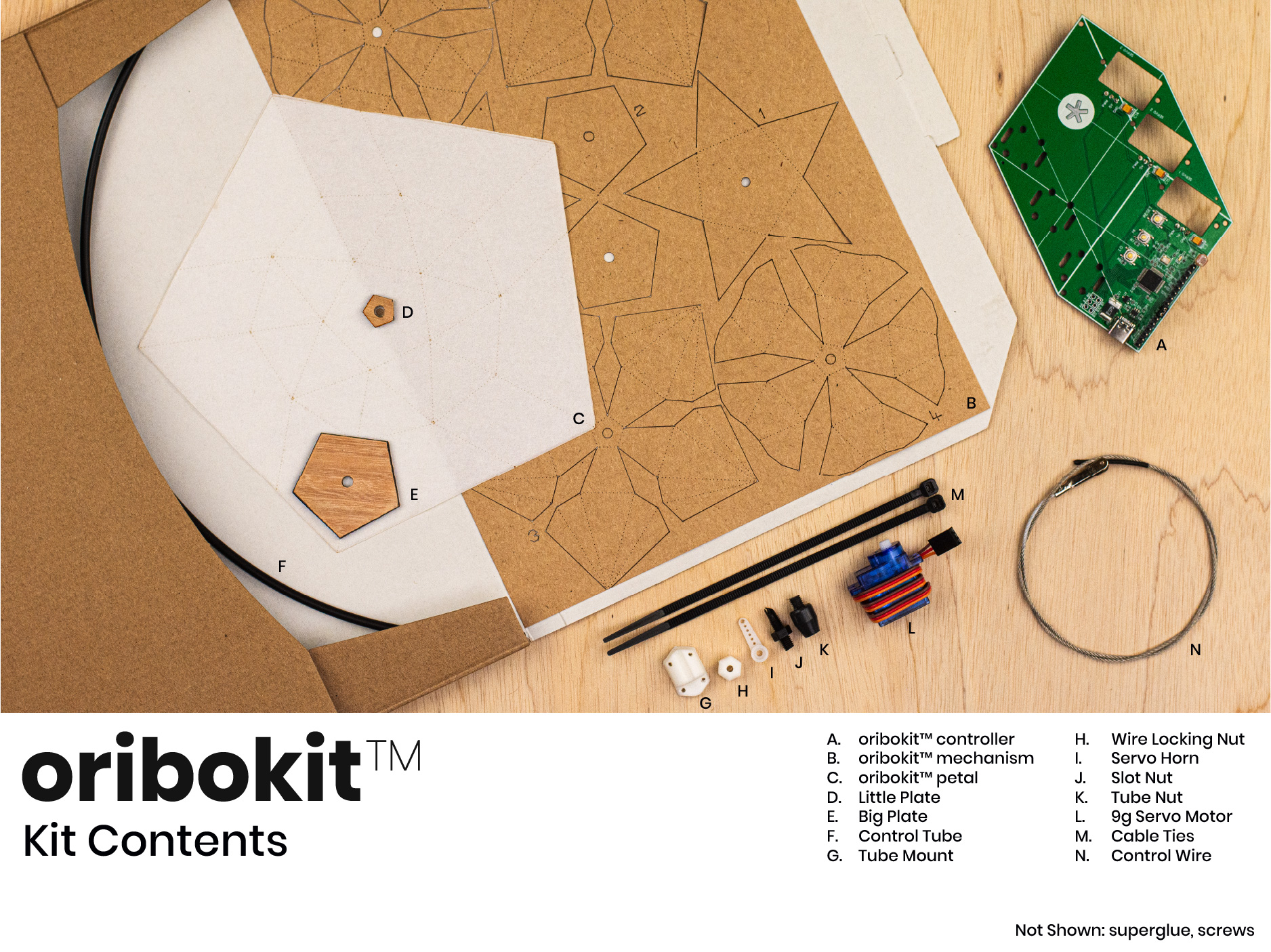 TOOLS AND MATERIALS REQUIRED:
#0 Phillips head screwdriver
Paper glue, such as UHU glue
scissors or craft knife
pliers (optional)
SAFETY INFORMATION:
oribokit is not suitable for children under 14 years of age, parental guidance recommended.
Always switch off oribokit when unattended!
oribokit is an art-kit not a toy
PREPARING FOR YOUR ORIBOKIT:
Art-making with oribokit involves a few simple steps:
Before your kit arrives, spend some time thinking about where you will hang your finished work, find a wall, surface or area with an accessible power outlet.
Go for a walk in your local parkland and find a tree branch. If you are in Australia, eucalyptus are excellent, especially dried ones, as the colour of the leaves is an amazing match for the kraft paper of the mechanism. Or think even broader about another type of object you want to try to bind your oribokit blossoms to.
Check the not-included list for any items you may still need to find, such as a USB power supply, USB-C cable and paper glue, so you are ready.
When your kit arrives, unpack carefully and join a workshop or view the online documentation.
WORKSHOP AND DELIVERY INFORMATION:
Covid-19 has affected how we live work and how we can do robotic origami workshops. The following considerations are out of neccessity to allow for our workshops to continue
In-person workshops may be changed to online workshops in the event of covid-related lockdowns or restrictions on gatherings. In the event of a change, you will be notified by email. Please ensure your email address on your order is up to date. Where possible we will keep the same date and time.

In the event of a postal delay, please inform us. We have ongoing workshops and you will be offered a place in one of these.

If your kit does not arrive or is returned at your border due to import restrictions, we will refund the amount of the kit. The cost of shipping is at your risk. Our shipper, Australia Post is regularly updated with import restrictions, if you encounter a problem at the checkout, it is likely that import restrictions are in place.